I always said I would have a blog, but I never did it. I didn't create the time. I didn't make the effort. I just didn't do it. But I don't consider myself someone that doesn't do what I say I'll do, so I've finally started, and I couldn't be more thrilled.
I've had a lifelong passion for sharing my experiences and emotions as a story of trials, tribulations and achievements. A few of my obsessions—entrepreneurship, ultrarunning and the importance of visualization in achieving dreams—have converged with my long-awaited passion of writing to inspire and motivate others to get everything they want out of life. Whether you read one of my blogs or become a devoted follower, my hope is that my crazy journey can ignite the fire burning within each of us to achieve our dreams.
"One day I will find the right words, and they will be simple."

Jack Kerouac, The Dharma Bums
So, I'm a dreamer. I always have been. I've dreamed of owning a successful business that embraces heterogeneity on nearly every level. I've dreamed of running 7 marathons on 7 continents in 7 days. I've dreamed of giving my three girls a foundation on which they can pursue and live their own big dreams. My list of dreams is long, and always evolving. I believe in dreaming big, but I've also found that I can, and should, dream even bigger. Too many times I've reached a dream only to realize the hardest part was visualizing what that destination should be, not the work to get there. I've also learned to truly embrace the journey, as it sure makes the achievement of a dream all the more satisfying.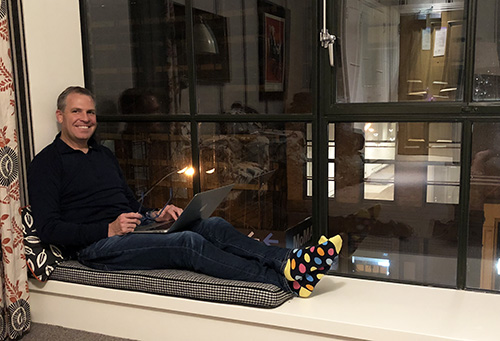 So if you're interested in my adventures running 100-mile, 200-mile and other whacky trail runs around the world, you might find this blog a bit educational and hopefully entertaining. If you're interested in entrepreneurship, owning and growing a company, mentoring future leaders and inspiring others to achieve their maximum potential, you might find this blog to be an asset in your own pursuits and hopefully you can learn from my experiences along the way. For my fellow dreamers, if you are pursuing that big lifelong dream, you might find this blog a welcome stop along your journey and a place where you can see the ups and downs and twists and turns of my pursuit, as well.
I have a bit of a thing for checklists, so you will find plenty of those here. I love to read, so you will see plenty of summaries and references to my favorite books and authors. Morning routines is a continuous area of evolution and improvement, so you can bet I'll be updating mine regularly. Photography is not a strength of mine, but I enjoy documenting my adventures, so you will see a distillation of what I would deem as the "best" photos from my travels, speaking engagements, trail runs and more.
Thanks for visiting. I hope you enjoy. I hope you're inspired. And I hope you will share your own stories about being an entrepreneur, ultrarunner or the big, lifelong dreams you're currently pursuing.
---
---
You might also like
---